Alaska Seismology in Schools - Sites
This page highlights each school that participates in the Seismology in Schools program and displays the live data-feed of their Raspberry Shake Seismograph. The live feed is divided into two sections: The waveform (above) and the spectrogram (below). The waveform visualizes the actual ground motion "wiggles" over time, and the spectrogram visualizes the frequency and intensity of ground motion over time. The ground motion data can be used to not only detect earthquakes, but anything that creates a ground motion - including footsteps, construction, washing machines, and more!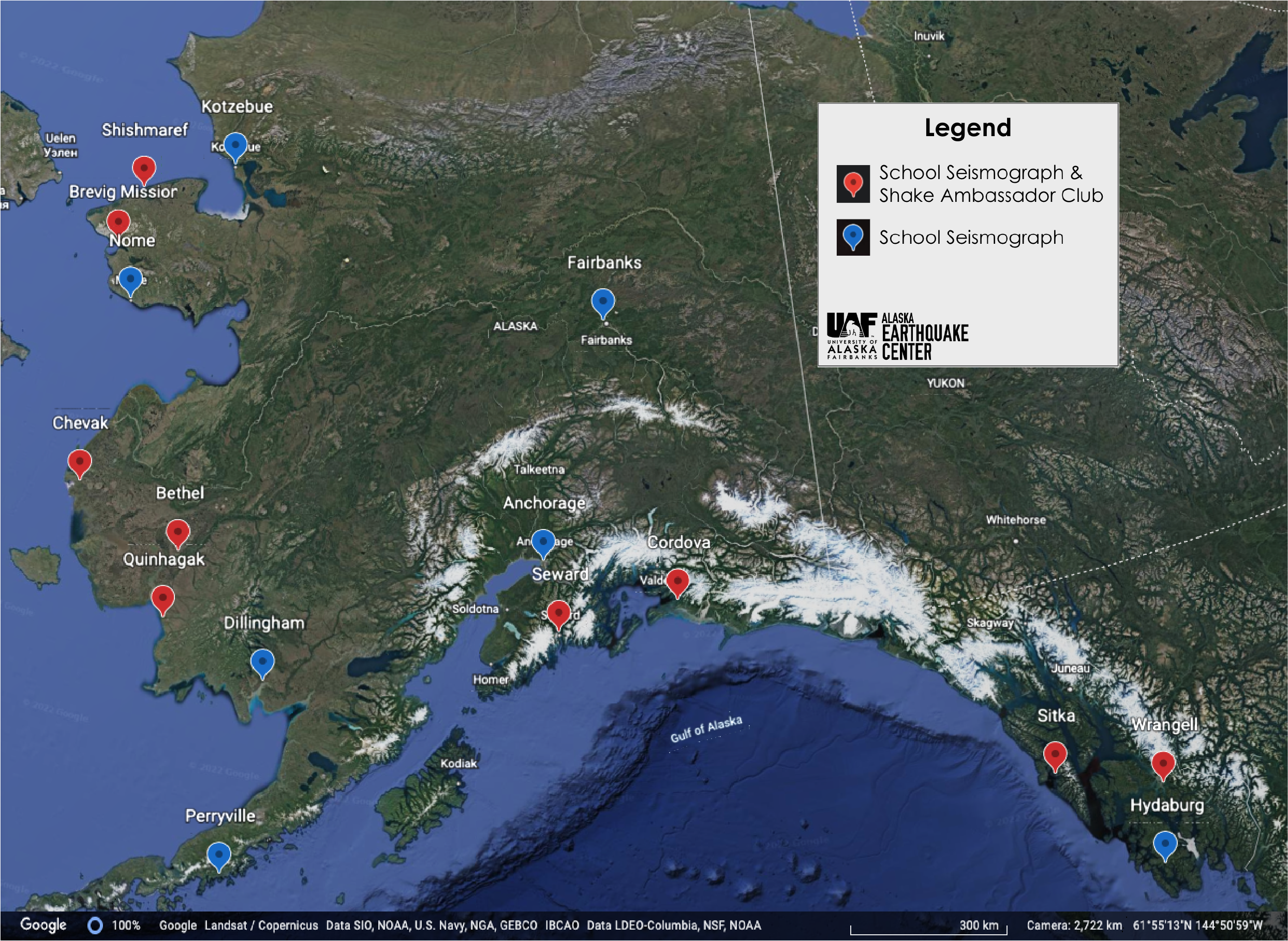 School Seismographs
Hydaburg School
Hydaburg is a small Haida community situated on southern Prince of Wales Island in Southeast Alaska. Middle and highschool students participated in an seismology crashcourse and seismograph installation during a school-wide STEAM (Science, Technology, Engineering, Arts, Math) Festival in March 2022. During a community presentation, students demonstrated the seismograph's capabilities through a traditional Haida song and drum dance, seen in the photo above. Hydaburg School's seismograph, Raspberry Shake Station RBD7D, is installed in Mrs. Granger's Science classroom.
Kuinerrarmiut Elitnaurviat (Quinhagak) School
If students in Mr. Dorsey's Highschool Geology class weren't already awake the morning of Tuesday, November 16th, they sure were after their 8:30am "STOMPQUAKE" activity to kick-off ASeiS's presentation that morning. A small (~700 population), majority Yupik community situated on the lower Kuskokwim bay in Southwestern Alaska, the town isn't particularly seismically active, but many of the students shared that morning that they had been in Anchorage during the famous 2018 earthquake that shook much of Southcentral Alaska. After school, students crowded in Mr. Dorsey's classroom to assist with the permanent installation of their new RS4D seismograph, which, after a bit of network troubleshooting, came online.
Seward High School
Seward, a small, fishing and tourism town on the southern side of Alaska's Kenai peninsula, hosted ASeiS's inaugural classroom presentation to students. In late October of 2021, Mr. Cureton-Hazard's Integrated Sciences class was introduced to earthquakes, P and S waves, seismic monitoring, and the Raspberry Shake seismograph. Students engaged in activities such as the "Earthquake Scavenger Hunt" by searching through Raspberry Shake's dataview historical datasets and comparing waveforms with spectrograms. Students were invited to return to Mr. Cureton-Hazard's Classroom after class to join in the permanent installation of their new seismograph, and later that afternoon students successfully installed the RS4D weak-and-strong motion seismograph. Students also plan on building several real-time data displays around the school. The station can be found on the Raspberry Shake web tools with the Station Name R7481.
West Anchorage High School
In Anchorage, students were introduced to ASeiS through Mr. Stutzer's Advanced Placement Physics class. Despite being Alaska's largest urban center with over 290,000 people, the Anchorage and the surrounding regions are very siesmically active and every single student in the group had direct experience with large earthquakes. After learning about the Raspberry Shake seismographs, a few students had the idea to build a live-stream data display of a Raspberry Shake next to an existing earthquake-related display at their school - clock that stopped ticking at 5:36pm on March 27th, 1964, during the Great Alaskan Earthquake.
West Anchorage High have installed their seismograph under a desk in a busy classroom, and plan on constructing a vault for better recordings in the future.
West Valley High School - Fairbanks
West Valley High School is located just below the UAF's Troth Yeddah Campus in Fairbanks. After a full day of classroom presentations in early March 2022, a large group of students joined after school for the installation of the seismograph. They took the lead on finding the best place in the building for the sensor to be placed, in a quiet room on the ground floor of the school so as to detect the most earthquakes.
Bethel Regional High School
Students in Bethel's Upward Bound Program, an afterschool academic support program, joined in the installation of their seismograph in May 2022. Bethel is the regional hub for the Yukon-Kuskokwim Delta. Students in Bethel were engaged and eager to learn more about Alaska's ground motion and how they could use their new seismograph to learn about not only earthquakes, but other ground motion as well.
Cordova Jr/Sr High School
Cordova is a small fishing community nestled in southeastern Prince William Sound near the Copper River Delta, an area that was hit hard by the 1964 Great Alaskan Earthquake. Students in Mr. Westing's Science class had all experienced earthquakes and asked many questions, especially about the seismicity of their region. Cordova High School hopes to build a live ground motion data monitoring display somewhere in their school in the future.
Dillingham High School
In southwestern Alaska's Bristol Bay, Dillingham is the hub for the surrounding villages and the region's strong salmon fishing industry. During the ASeiS visit to the high school, students in Mrs. Palin's science class asked great questions about the potential for local earthquake and tsunami impacts, and especially enjoyed the "Stompquake" activity!
Chevak School
In Chevak, a small C'upik community located along the Ninglikfak river in western Alaska, students installed their Raspberry Shake Seismograph in May 2022 during ASeiS' visit to Chevak School. Chevak school is building a makerspace, and the students look forward to incorporating the seismograph into future STEM research projects.
Perryville School
Located on the slopes of Mt. Veniaminof volcano and not far from the epicenter of the large 8.2 Chignik earthquake, residents of the village of Perryville are no strangers to seismic activity. ASeiS partnered with Alaska Volcano Observatory to do an outreach visit and Raspberry Shake installation in Perryville May of 2022, and plan to visit in Fall of 2022 for a follow up event with the school.