Job Opportunities
The Earthquake Center's success is built through the collaboration of people with different specialties. Our team includes scientists, technicians, engineers, communications professionals, IT specialists, and administrative professionals. We are a cooperative environment where projects and operations are executed by well-empowered teams.
The center's values emphasize employee flexibility, the open sharing of different perspectives, and a commitment to serving Alaska and Alaskans. The center values staff members with a wide variety of backgrounds and experiences. We share a commitment to increasing our awareness and action to support diversity and inclusivity. Professional growth and development are supported and encouraged. The Earthquake Center is a mission-driven organization set within the Geophysical Institute at the University of Alaska Fairbanks. The university offers an attractive work environment and strong benefits.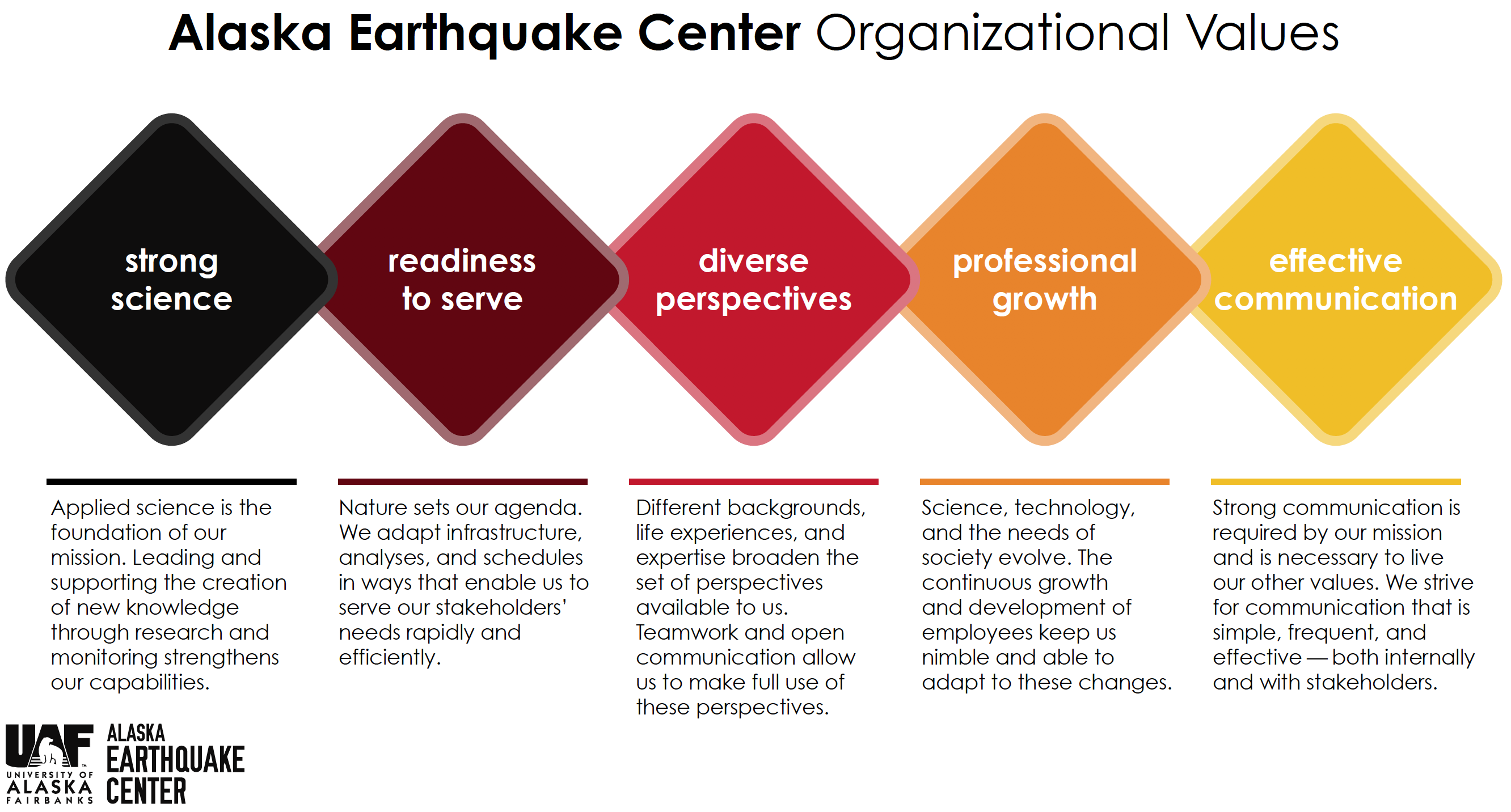 Staff Positions
GNSS Specialist
The Alaska Earthquake Center is hiring a GNSS Specialist to serve as the Center's expert resource for geodetic field installations, data acquisition, archival, dissemination, and quality assurance. We seek an individual with expert knowledge of real-time GNSS data acquisition and field infrastructure. We especially seek applicants with diverse (broadly defined) backgrounds that are historically underrepresented in STEM fields. Career growth and professional development are expected and encouraged. To be eligible for this position, applicants must be legally authorized to work in the United States without restriction. Applicants who now or may in the future require visa sponsorship to work in the United States are not eligible. Visit careers.alaska.edu, or contact Natalia Ruppert (907-474-7472) for more information.
Student Positions
There are student positions in various disciplines open. Contact us at uaf-aec@alaska.edu or 907-474-732 to discuss your interests so we can connect you with a project that will support your academic and career goals. (It really helps to contact us directly, even if you are already in the student employment pool.)
A Day in the Life...UAF Geophysics