New multidisciplinary project will boost understanding of earthquakes and Arctic change in Alaska
November 11, 2020
A new collaborative project will make it possible for scientists to use real-time seismic, weather, and infrasound (sounds below levels that humans can hear) observations to track a suite of phenomena ranging from earthquakes to wildfires to sea ice.
The five-year, $6.9 million project funded by the National Science Foundation focuses on enhancing measurements of Arctic change across western and northern Alaska. Led by the Alaska Earthquake Center, the Alaska Climate Research Center and a diverse team of investigators from the University of Alaska Fairbanks Geophysical Institute, the project will enable use of real-time observations to help track earthquakes and landslides, detect permafrost changes, monitor sea ice, measure the aurora, forecast wildfire behavior and North Slope weather, and more.
"This project is intended as the seed for a long-term facility, led by UAF, that brings together many agencies and sponsors around the common goal of large-scale, real-time environmental monitoring and observation," said Michael West, director of the Alaska Earthquake Center and a principal investigator for the project.
The cornerstone of the project is the acquisition of 45 multi-instrument stations originally part of the USArray seismic project. The Incorporated Research Institutions for Seismology (IRIS), a consortium of U.S. universities, managed and installed the USArray across Alaska between 2014 and 2017, vastly expanding the amount of seismic data available in Alaska. This was the first time instruments for earthquake monitoring had been installed in some remote locations, especially in northern and western Alaska. The project was slated to be in place for only a few years, with all stations scheduled for removal in 2020-2021, but with this funding 45 stations will now become part of Alaska's permanent monitoring network.
"It's so difficult to establish long-term stations in remote areas, so using these existing installations is very beneficial," said Martin Stuefer, director of the Alaska Climate Research Center and also a principal investigator for the project.
In addition to seismometers, the 45 stations incorporate instruments for measuring barometric pressure, precipitation, wind speed, relative humidity, temperature, soil temperature and infrasound. "We have a lot of stakeholders across Alaska asking for answers from the climate center, but we don't have the data. With the USArray stations, we will," said Stuefer.
"We're providing a service: open real-time data for anyone to use. Equally important, this award will support new research on how to leverage these data types together," West said.
Real-time data from the stations is already benefiting Alaskans. Various agencies, including the National Weather Service, the Bureau of Land Management and the U.S. Geological Survey, have taken advantage of the wealth of new information.
"The North Slope Borough is larger than the state of Connecticut. Without the USArray stations, there are only a few [weather] stations on the coast," Stuefer said. He explained that the lack of real-time data made weather forecasting for the North Slope difficult, especially in a region where weather can change drastically in a short time. The National Weather Service has been able to improve forecasts with the real-time USArray station data, which is especially important for aircraft safety in the region.
In recent years, wildfires have become more frequent in Alaska, and are even starting to occur in Arctic tundra. The BLM has used USArray data to improve wildfire detection and monitoring in remote areas. The suite of humidity, temperature, pressure and precipitation data collected from each station can help land managers forecast wildfire conditions. The 45 USArray stations now in place add much-needed coverage for more accurate, on-the-ground information. This information, in turn, helps fire response agencies plan where and when to stage firefighting resources.
The overarching goal of the project is to open doors for new research and novel applications that will help Arctic communities and expand our understanding of Arctic change. With the variety of instruments on each station, there are opportunities to foster new, multi-disciplinary partnerships.
"This is an exciting project for lots of potential users, from students to researchers to agencies providing community services," West said. "We hope to establish a resource for long-term data far beyond the next five to six years of the project."
Learn more about the expansion of the center's seismic network in Alaska Earthquake Center's seismic network covers new ground.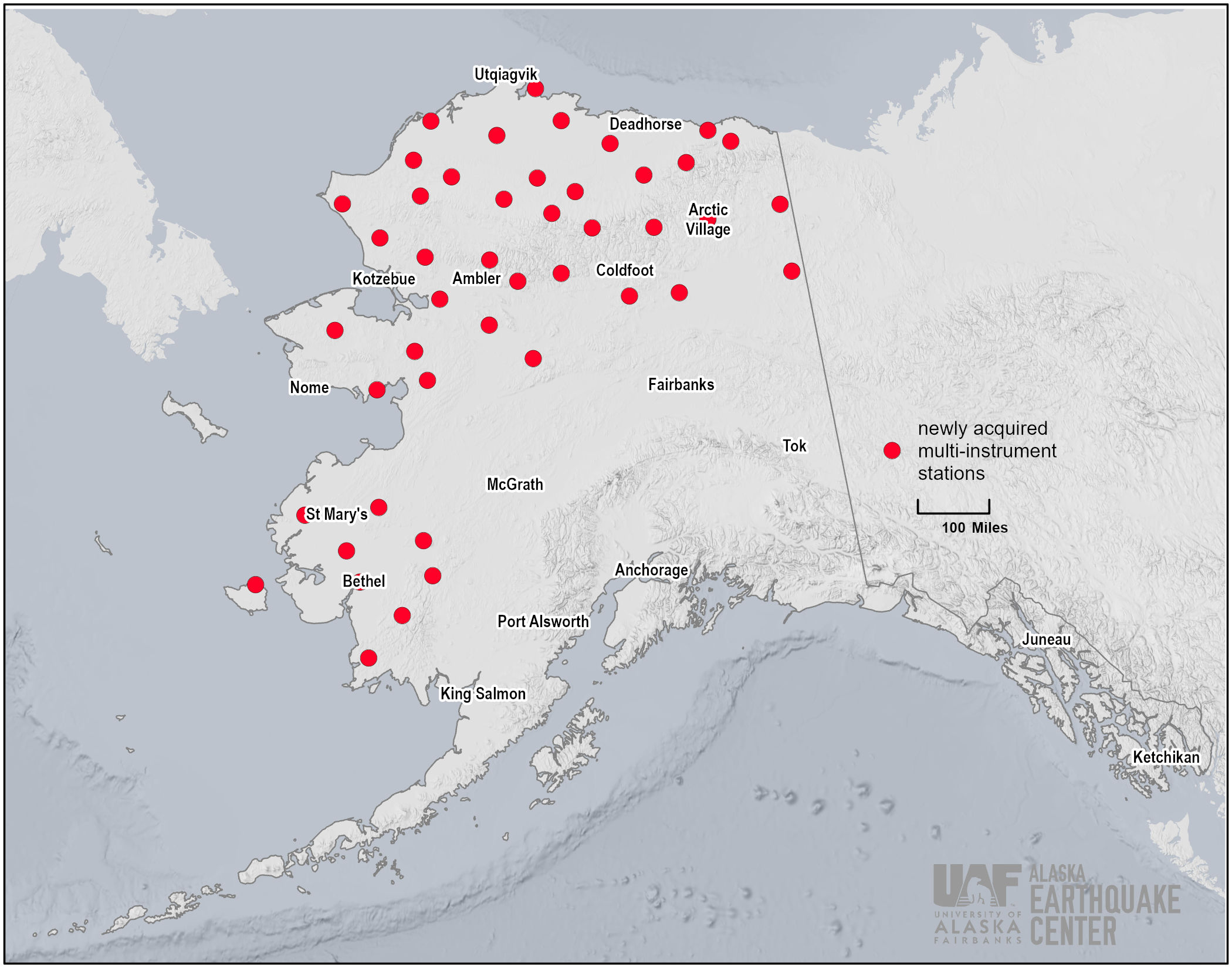 The 45 USArray stations greatly increase coverage for western and northern Alaska. Map Credit: Alaska Earthquake Center