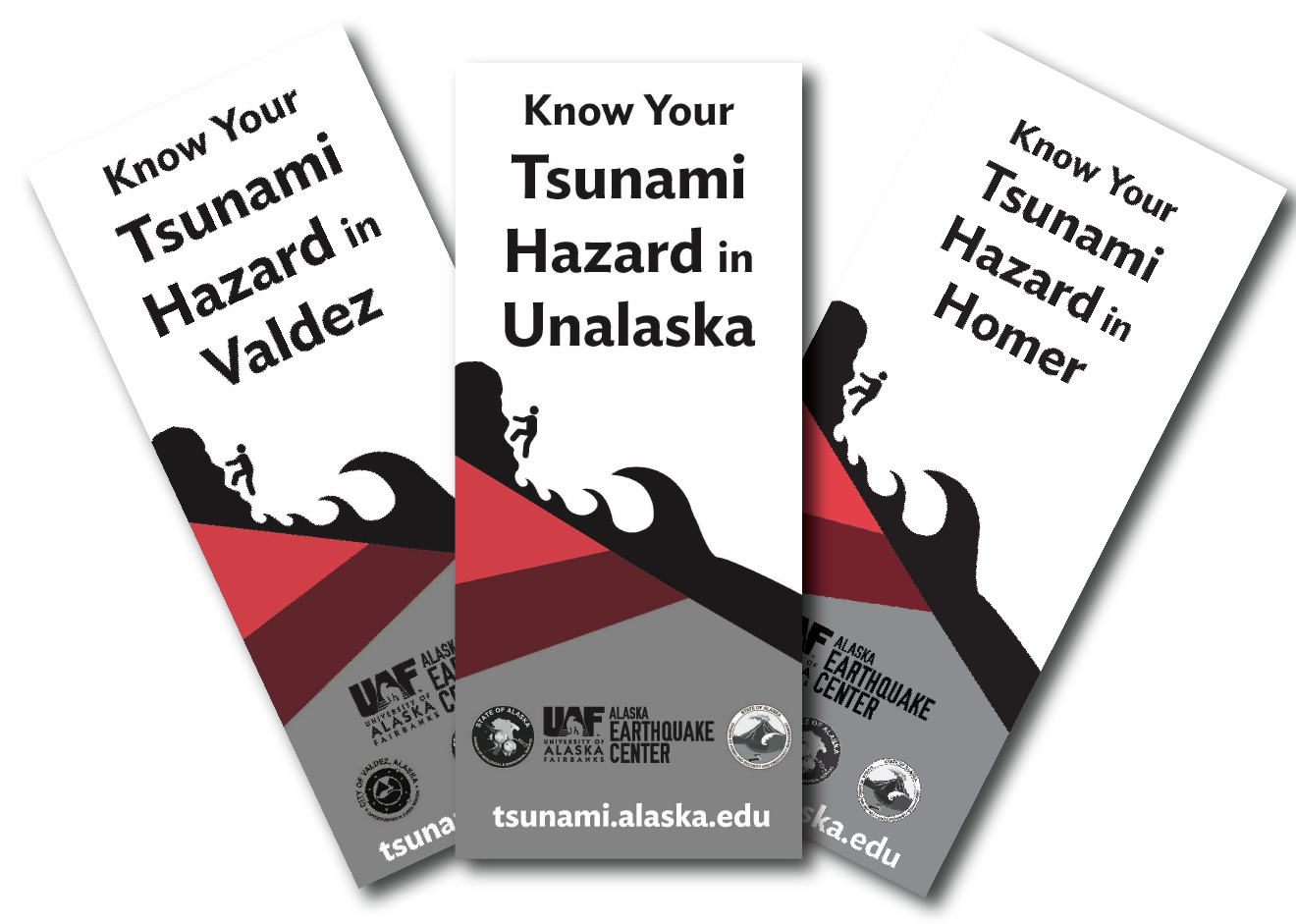 Community Brochures
Coastal Alaska communities live with the most serious tsunami risk in the United States. Historically, tsunamis generated by earthquakes in Alaska have caused damage and loss of life along the West Coast and across the Pacific. Here in Alaska, tsunamis generated by nearby earthquakes or landslides represent "near-field" hazards. This means people may have minutes rather than hours to reach safety.
The Earthquake Center works to make our coastal communities safer by providing state and local officials with the best possible information for addressing the tsunami hazards faced by their communities.
These community-specific brochures distill information from the scientific inundation, pedestrian travel time, and maritime response guidance reports into a handy, quick reference. The brochures include maps with community-designated safety information, as well as links for local and statewide tsunami preparedness information. The brochures are rack-card size for easy display, and a great safety resource for both locals and visitors.
The Earthquake Center partners with the Alaska Division of Homeland Security and Emergency Management and each community to create the brochures, tailoring the map, safety contact information, and historical information to each location.
This project is ongoing. More communities will be available in the future.
Available Brochures
Craig (brochure-format PDF) (page-by-page PDF)
Homer (brochure-format PDF) (page-by-page PDF)
Hydaburg (brochure-format PDF) (page-by-page PDF)
Kodiak (brochure-format PDF) (page-by-page PDF)
Seward (brochure-format PDF) (page-by-page PDF)
Sitka (brochure-format PDF) (page-by-page PDF)
Valdez (brochure-format PDF) (page-by-page PDF)
Unalaska (brochure-format PDF) (page-by-page PDF)